China's size and trading status is reshaping the economics and geopolitics of Asia and its public sector is keeping the economy on a decent growth trajectory.
A new, optimistic generation is taking its place in driving the direction of the Chinese economy: one that is technologically savvy and comfortable with the borderless consumerism of the global middle class.
Spoiled by parents and grandparents for being an only child in their families, following government regulations, these youngsters are the first Chinese generation to have been born in a fully modern, fully digitized country.
Context to China's


Music Industry
With China's online users having limited access to the global media (Google, Facebook, and YouTube to name a few, or the multiple news and media outlets such as the BBC or The New York Times), many businesses, music artists and labels included, discover that in China they need to invest heavily or in some cases even start from scratch regarding their brand and following.
As a result Chinese tech giants such as Baidu, Alibaba and Tencent flourished, with the most striking example arguably being ByteDance – the Beijing-based creator of the highly popular 15-second video app, TikTok (or Douyin, in China).
The effects of a rapidly developing tech combined with the government's draconian approach to having rules followed have been far-reaching, though they have had a very positive effect overall streamlining at scale the process of music distribution, discovery and consumption.
The absence of global players in China, combined with the local socio-cultural factors has shaped the domestic digital space and music services in a way that is rather unique and in its own way innovative and advanced as compared with the established practices.
To have a prosperous brand in China, one must be fully considerate of the impact of the local legal and cultural intricacies and the influence of the state in day-to-day operations on one hand, and the opportunities and shortcuts that a well-established personal network offers on the other.
The Government Success
The government's role has been also significant in educating people in China about copyrights and fighting illegal use of content through the National Intellectual Property Strategy Outline promulgated in 2008. And as intellectual property protection in China is often questioned, some of the recent developments and reforms demonstrate a strong resolve to enforce the copyright doctrine. The authorities' effort and commitment became quite clear as it began shutting down major online services utilizing unlicensed content – books in 2008, videos in 2012 and music in 2015.
A legal reform instituted recently allowed for the formation of specialized and centralized intellectual property court-system with the first Intellectual Property Courts established in 2014 in Beijing, Shanghai, and Guangzhou, and more launching since 2017. In a further attempt to inform and guide the lower courts, the Supreme People's Court publishes annually the 10 most significant IP cases and 50 guiding IP cases of the year.
The National People's Congress released a draft of the Copyright Law for public comment in May 2020 (read in Chinese), though the latest enacted amendment to the Copyright Law of the People's Republic of China is from 2010.
The Artist as a Brand
Authenticity is one of the centerpieces of present-day marketing practices and with the rapid advance of social media and marketing tactics, brands now talk directly to their followers and music artists are embracing the opportunity to nurture and retain their own fan base.
Artists, managers and labels alike, embrace this approach around the world as they run with the established notion of authenticity where meaning is 'manufactured' through various organisational processes in the cultural industries who are 'carving' a market niche for the artist through the creation of 'unique identities'.
This approach often is very impractical in China as the artist-fan and brand-consumer relationships rely on different touch-points and value propositions due to a wide range of socio-cultural and political factors affecting generations.
Like in many other areas, China's music industry took the best of both worlds (east and west) and created a unique fusion of business models and legislation that are forward-facing, pushing the boundaries and showing year in year out that what works in China is the Chinese model, with major labels (Sony, Warner and Universal) effectively accounting for only 20% of the consumption in mainland China today (Statista, 2020).
China's Approach
Focus on business with entrepreneurial mindset
Building a brand with fully fledged business operations, logistics and customer support
Ability to take full advantage of the specific for the market cultural, business and legislative characteristics
Long-term vision through diversified assets and portfolio across multiple industries
Building brand extensions for cross-cultural reach
Flexibility as an independent music services company, working with all major players across the board and cross-industry
Entrepreneurial perspective and approach from a pioneer in the market with an established infrastructure
HQ in mainland China with local staff with native understanding of cultural intricacies
Strong connections with mainland China local and central government organizations
Partnership perspective to allow for creative and business control, as a statement of trust and commitment
Being a flagship brand and being compared to success stories of Chinese idols instead of Western artists with prior success
Sustainable growth and revenue beyond the initial term
Traditional Approach
Focus on a old licensing business model
Building an artist profile in addition to already existing roster of similar artists
Applying one-size-fits-all approach to a market that is notoriously different than the rest of the word
Short-term vision through licensing monetization only
–
Locked in an exclusive deal with only one player in the market
Traditional / major label perspective and approach without the traditional / major label infrastructure and team available on the ground
No dedicated team in mainland China, often inconsiderate of cultural differences
–
Advance payment to ensure revenue, locking artists and effectively blocking their development as a brand as such advances are usually given for the purposes of preventing competition to have access to the artist and their music, not as a statement of confidence and commitment
Locked in a contract due to advance
Sharing resources with similar artists on the roster and being compared to those with prior success in China
Risk of significant drop in growth and revenue beyond the initial term if no new deal signed
Overview of China's


Music Services
Kanjian partners with over 90 digital service providers in China (200+ worldwide). Full list of the Chinese services at en.kanjian.com/dsp/china
Streaming and download platforms
Telecom operators
Mobile phone manufacturers
Music libraries (sync)
In-vehicle/in-flight systems
Smart device manufacturers
Background music (retail and hospitality)
Online video and music video platforms
Apps and interactive online services
Live singing streaming platforms
Film/TV series
KTV and karaoke apps
Set-top box (OTT)
Apple Music is the only global service available in mainland China today – there's no Spotify, iTunes nor Deezer, instead, the market is dominated by domestic services.
It is worth noting that these services are not copy-cats of the Western apps though, quite the opposite actually – key players like Kugou and Kuwo launched long before Spotify came about. Kugou, for example (owned by Tencent today), launched back in 2004 and, although it evolved over the years, the main functionality that attracts today nearly 800 million people every month remains pretty much the same.
Tencent, Netease and Alibaba's lead the pack in streaming and download, while the local telcos and smart-product manufacturers like China Mobile, Huawei, and Xiaomi are not falling far behind, and then there is the myriad of online services, offering music as part of their product, though where music is not the main focus of the service – these include the likes of Eqxiu, Xiumi, and WPS. A major revenue generator are the live streaming and karaoke apps such as Changba and WeSing.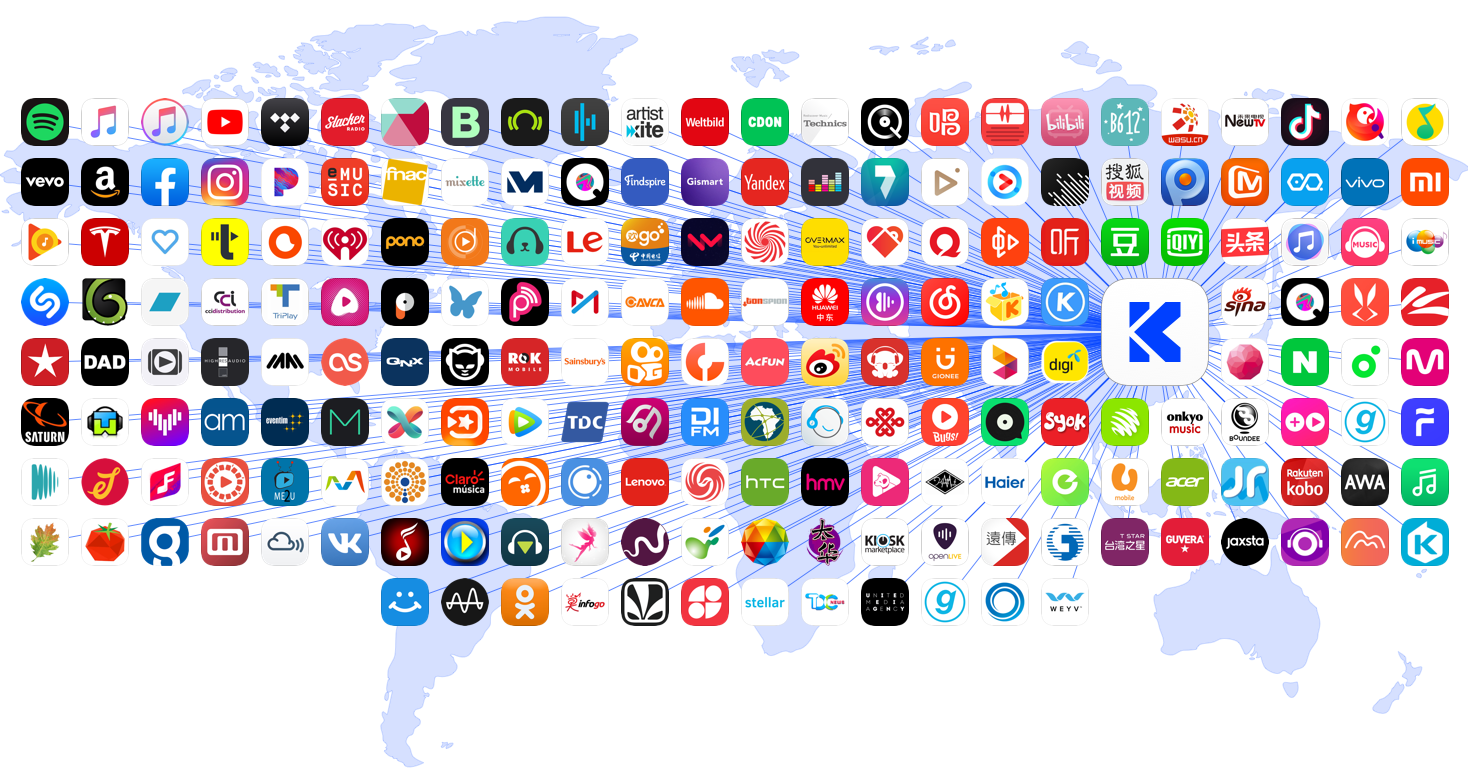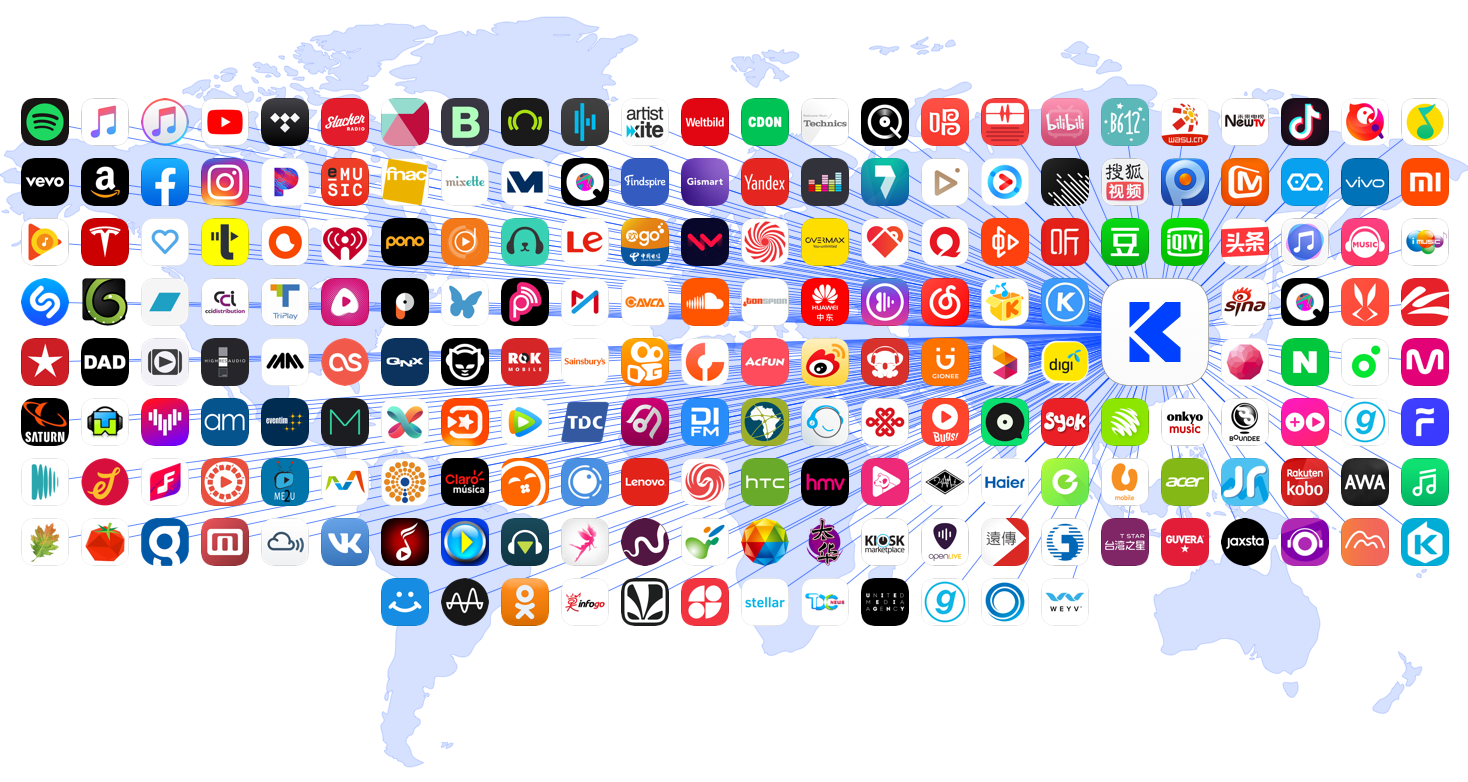 Publishing Royalties
Kanjian Music has been directly collecting publishing royalties on behalf of and accounting to copyright holders since 2016.
Streaming and Download

Tencent Music Entertainment Group is undoubtedly the leader in China when it comes to music services, with over 650 million mobile monthly active users combined across its three main services QQ Music, Kugou Music and Kuwo Music.
Both Kugou and Kuwo were originally developed by China Music Corporation, which merged with Tencent Music in 2016 to form Tencent Music Entertainment. It is worth noting that while QQ Music's user base is predominantly in tier 1 cities in China such as Beijing and Shanghai, the users of Kugou and Kuwo live in the second or third tier cities, considered less developed when compared to the metropolises. This differentiation is further underlined in age group and listening preferences as the popularity of artists between QQ Music and the other two services varies significantly.
In 2017, Andy Ng, the then Vice President of Tencent Music Entertainment, as part of his keynote interview at Midem shared some interesting information about Tencent's music catalog (view on YouTube). According to the data he shared with the audience, more than half of Tencent's catalog, 17 million tracks back then, was "English music". The interesting part however is that from the entire catalog, Chinese music comprised only 4% and it is this 4% that 80% of Tencent's users listened to.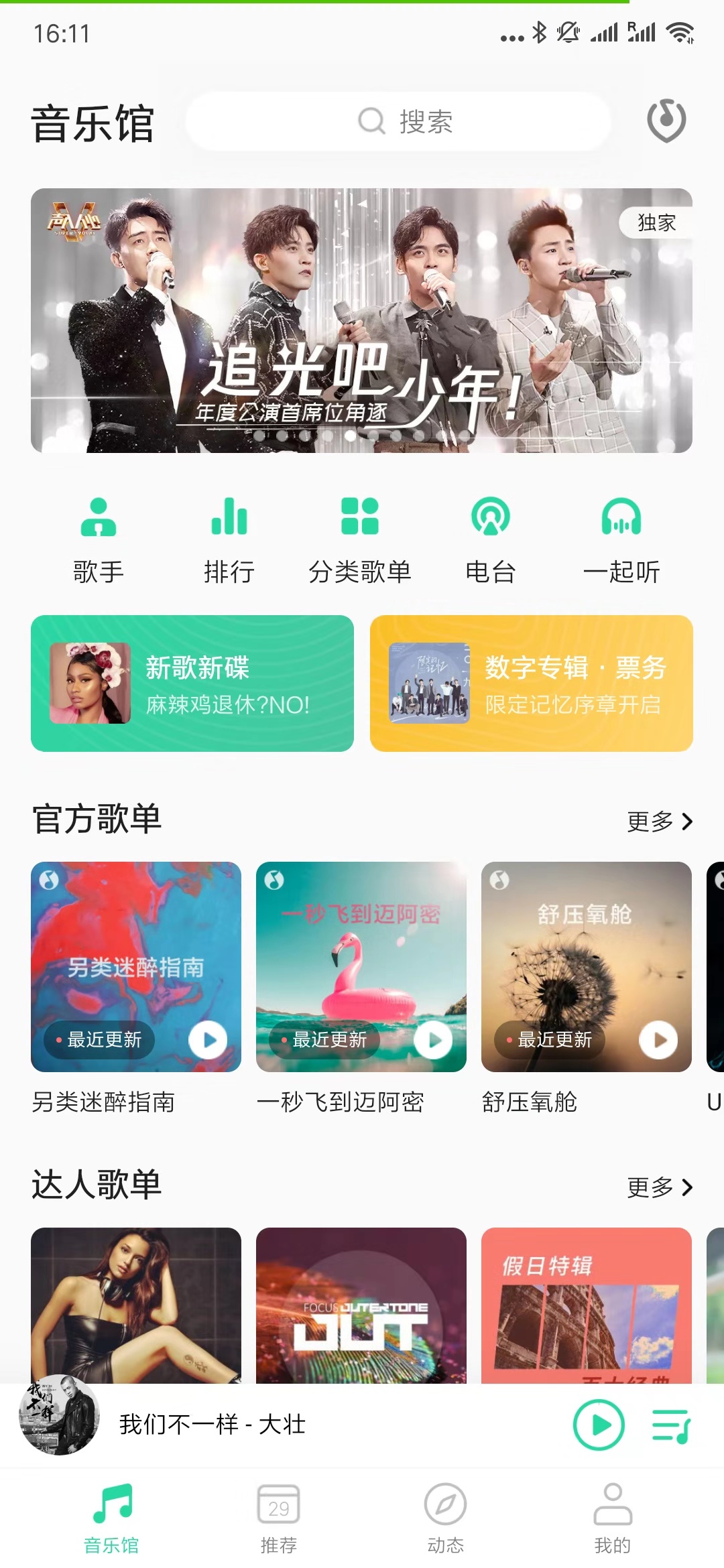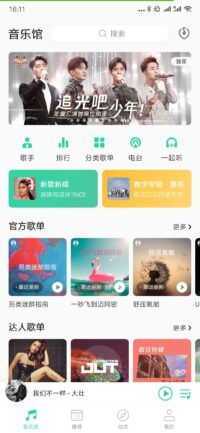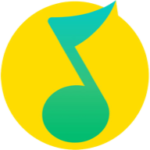 QQ Music
Launched in 2008, QQ Music has the most comprehensive music library, including content from all three international major labels Universal, Sony, and Warner. The service focuses on popular artists and major mainstream hits and is aimed at young music fans in China.
QQ Music employs a freemium business model for streaming and downloads as well as VIP subscriptions to exclusive songs, with the differentiator being sound quality, product features and exclusive access to part of the catalog. The service provides a digital platform for windowed exclusive releases and playlisting and features support through its editorial teams.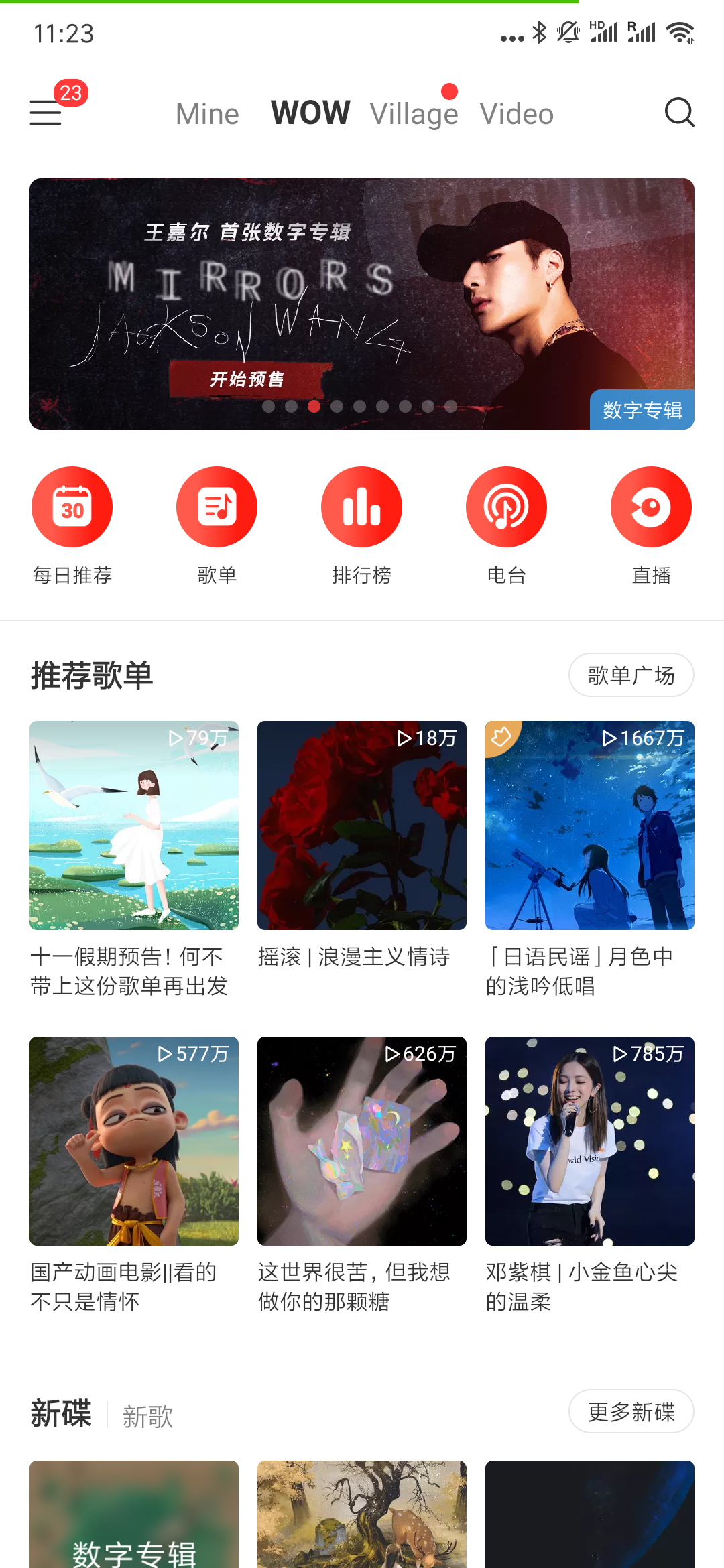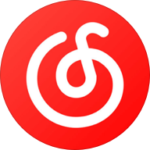 Netease Cloud Music
Netease Cloud Music, or commonly referred to within the industry as, Netease, is arguably the second largest Chinese music streaming platform. The company claims the service has 800M registered users online listeners, though there are no official monthly active users number published. One of the key features of the platform is the social feed, allowing artists to engage with fans directly. We will review this feature later on in this module.
One of the key brand differentiators is Netease's catalog. Netease self-reports that more than 50% of activity on its service – including streams but also comments, playlisting and favoriting by users – involves international music.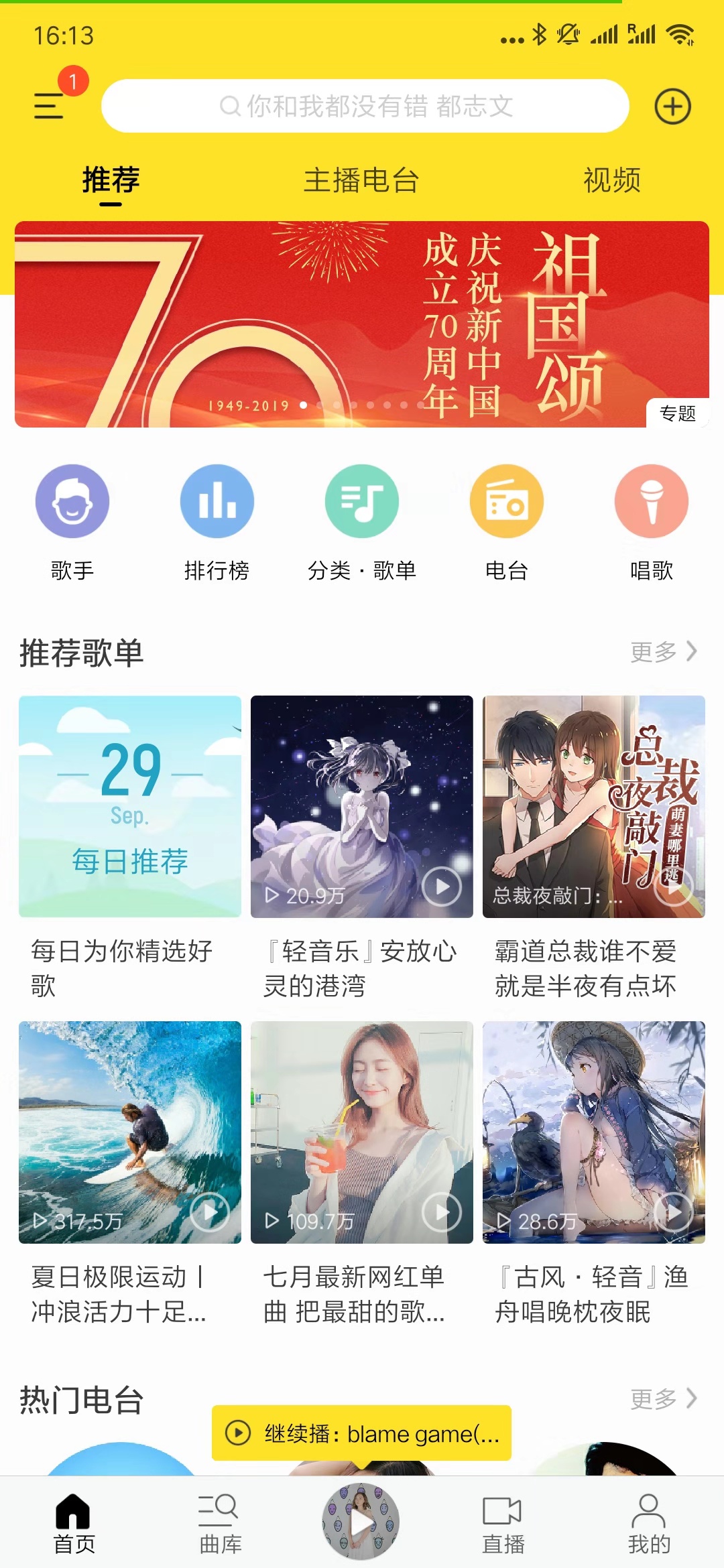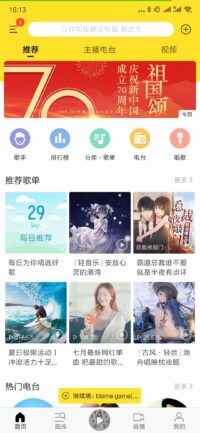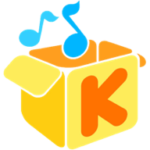 Kuwo
Kuwo was launched a year after Kugo, in 2005, and similarly has a streaming and live broadcasting functionality. Kuwo's music arm however focuses on particular genres and segments, such as DJ mixes and children's songs, to cater to users' diverse tastes, while the live streaming part focuses on music-centric shows in interactive and engaging ways.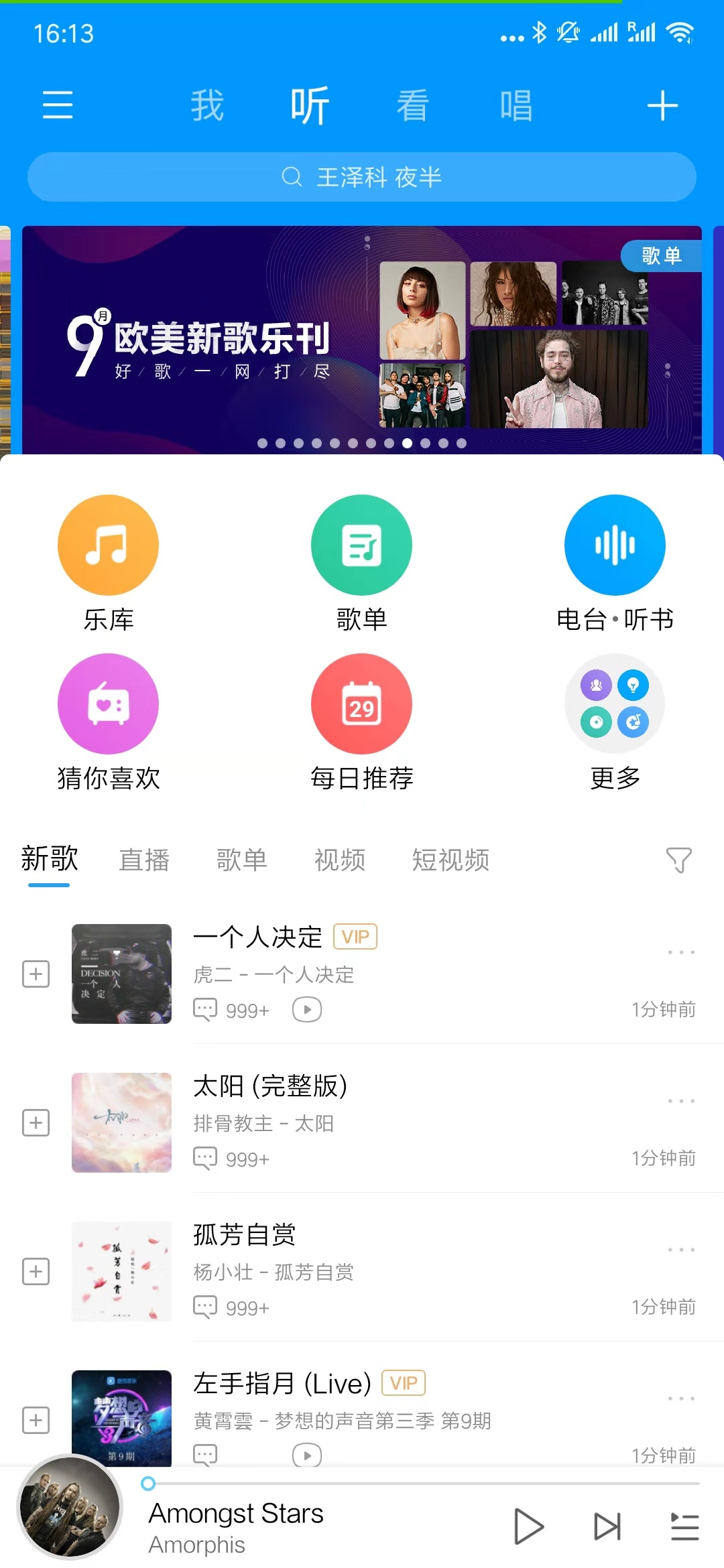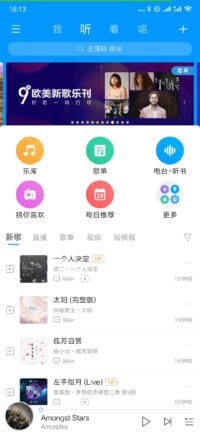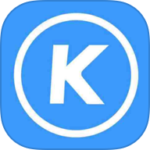 Kugou
Kugou, launched in 2004, is a pioneer in China, and comprises of Kugou Music and Kugou Live. The former offers a streaming functionality offering a comprehensive set of entertainment features with a mass-market focus and a wide user penetration in China.
The latter is a music-centric live streaming platform allowing artists to perform live and users to watch and reward artists through a virtual-gifts monetization model, similar to busking.
The service is recognized as the preferred destination in China for listeners to discover music trending on the internet.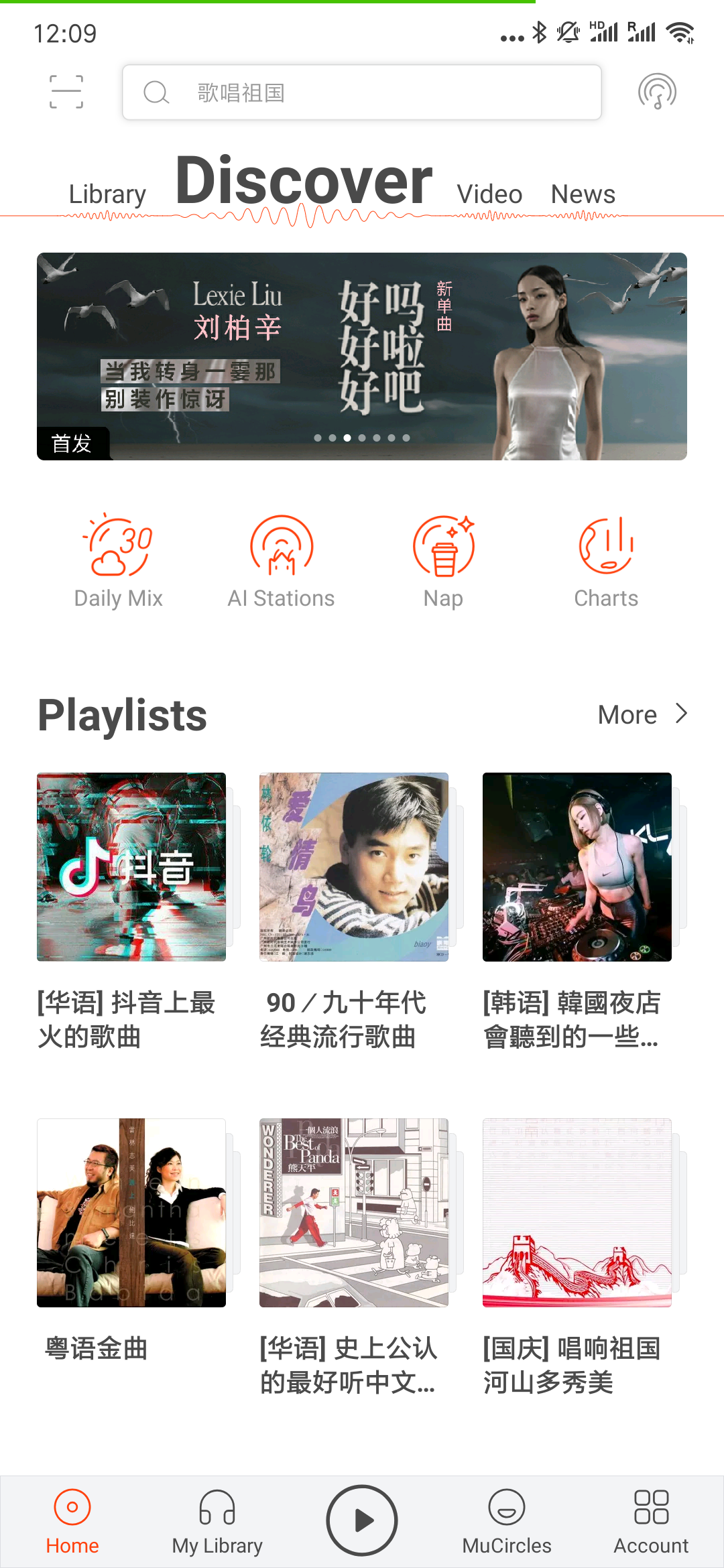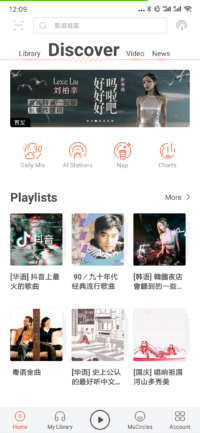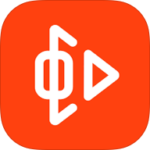 Xiami
Xiami Music was launched in 2006 and was acquired by the Chinese online shopping giant Alibaba in 2013.
Xiami was shut down in 2021 as a consumer-facing digital store, though will continue operations as a B2B service.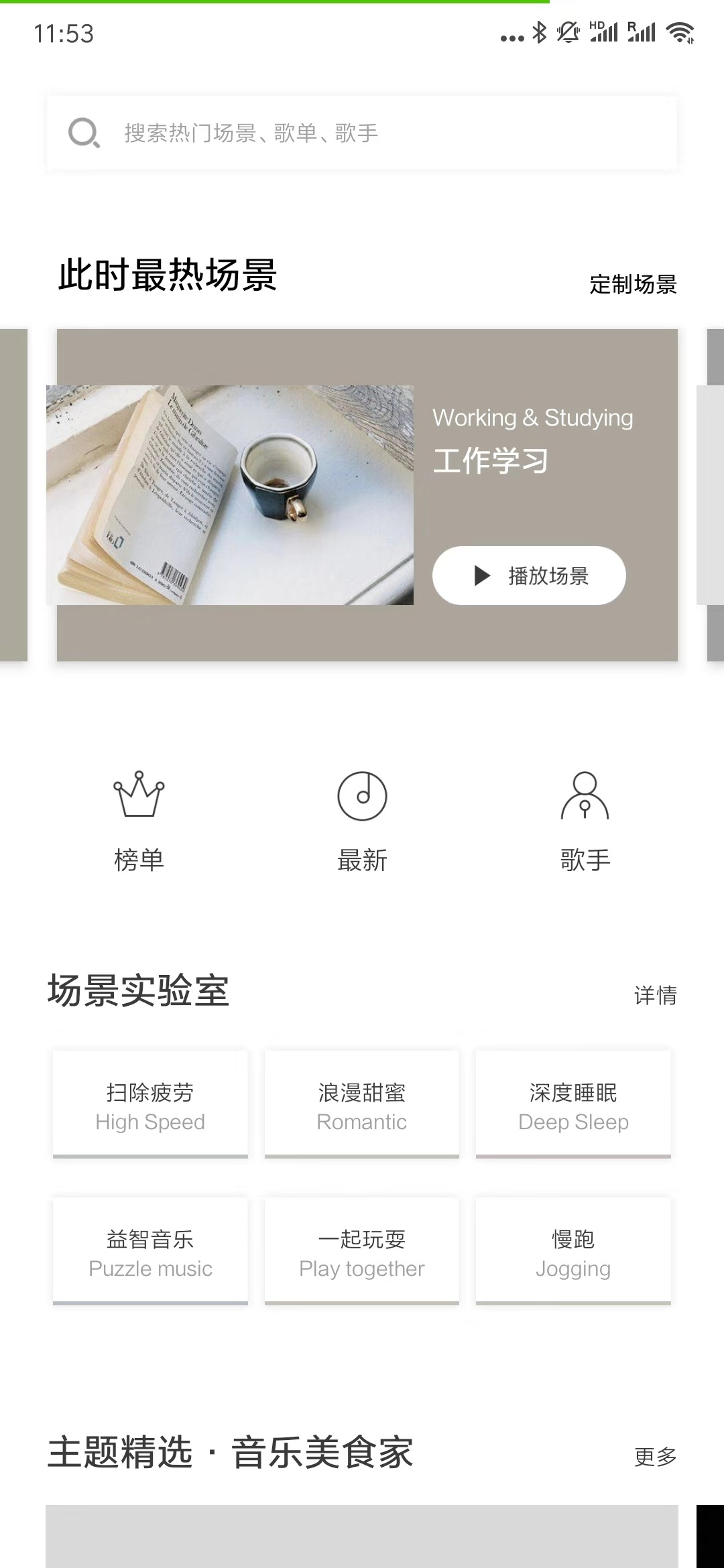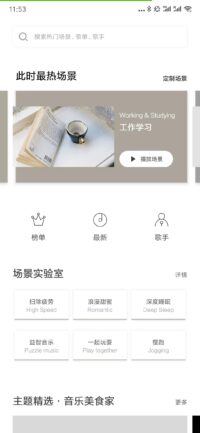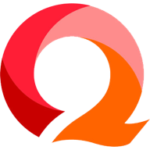 Qianqian
Qian Qian Music is the new kid on the bloc. Previously known as Baidu Music the service merged with Taihe Music Group in 2015 and rebranded in 2018, though the functionality remained the same. Taihe Music Group – it should be noted – claims to be China's largest live and recorded music group, and is backed by Baidu – the Chinese tech giant.
Qian Qian brands itself as your Intelligent Music Companion, as the service focuses on human curated and AI-driven playlists, while leveraging Taihe's own domestic catalog. It is the only major service with a mood and activity playlist-first approach.
Telcos and Smart Appliances
In China's telecommunications industry, there are three licensed mobile carriers – China Telecom, China Unicom and China Mobile. Back in the days when there were only 2G mobile networks, the main way for people to listen to music was to pay a fee to download music from these carriers' libraries. Today, China's three mobile carriers each provides an integrated music streaming, downloading and ringtone service, targeting their own mobile customers by ensuring there are no data charges for anyone streaming music via the telcos own platforms.
The three mobile carriers are looking for increased data service growth as China's 5G plan rolls out, with the expectation that this will further change the way people surf the internet.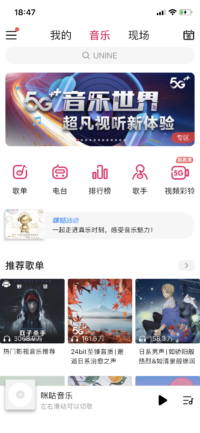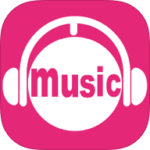 Migu Music
Migu Music is the music streaming service of China Mobile, the largest mobile network in the country.
According to their official website, the platform currently has 130 million paying users, has generated $21 billion (USD) revenue for the company, and has spent $6.3 billion on copyrighted content costs – in other words paying the rightsowners for the music.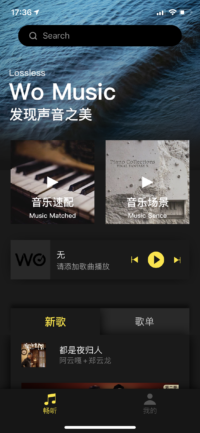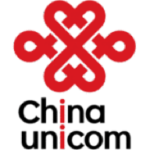 Wo Music
Wo Music is the music streaming platform of China Unicom. Users who have a China Unicom phone plan can stream music on the platform without incurring any data cost.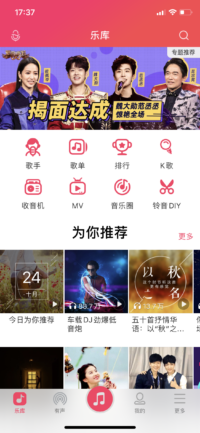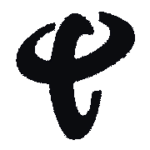 iTing Music
And similarly, iTing Music is the integrated music streaming, downloading and ringtone service of China Telecom.
Similarly to telecom operators, smart appliances manufacturers like Haier, Baidu, Huawei, Alibaba, Xiaomi and others also have their own music platforms for their product users. While Baidu and Xiaomi partnered with QQ Music (owned by Tencent) to provide music streaming to their smart speakers, Alibaba and Huawei built their own app to provide various content, including music, for their smart speaker products.
As of the second quarter 2019, Baidu's Xiaodu Smart Speaker is the world's 2nd best-selling smart speaker (17.3%), after Amazon's Alexa (25.4), followed by Google in the 3rd position (16.7%). Alibaba's Tmall Genie and Xiaomi's Mi AI Speaker are taking the 4th (15.8) and 5th position (10.8%). This means three of the top five smart speaker manufacturers by global market share are Chinese.
The continuing growth of the Chinese smart speaker market means that artists who can get themselves onto the music platforms that are partnered with the hardware stand a better chance of being heard by the consumers using those speakers.
Karaoke and Livestream
Performance
Livestream performance and karaoke apps are generating significant revenues in China's music industry today. According to Tencent's 2019 Q2 financial report, over 70% of its revenue was generated by its live streaming apps, Kugou Live and Kuwo Live, and its karaoke app, WeSing.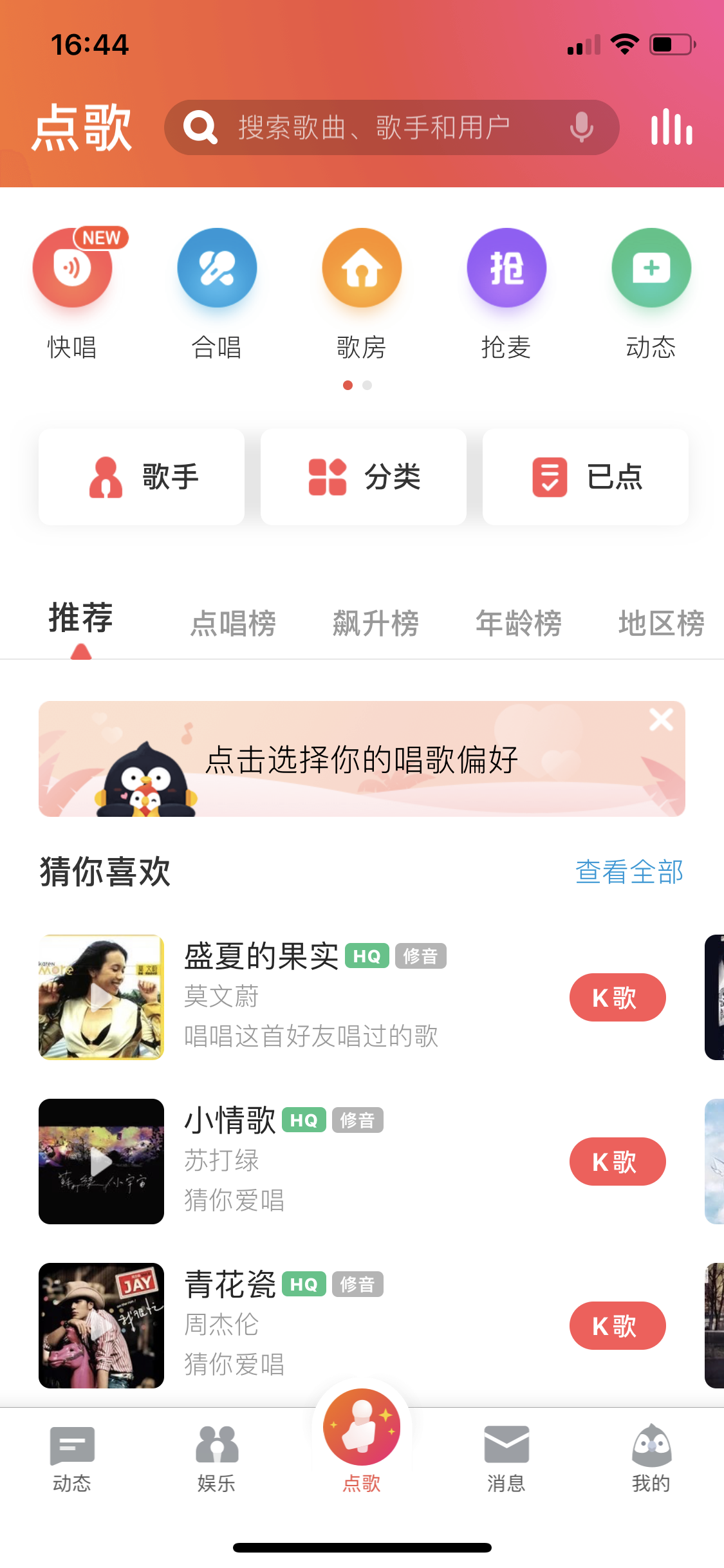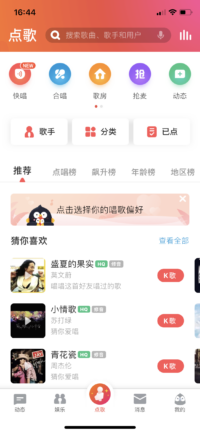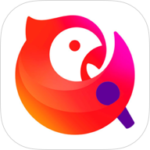 WeSing (K哥)
K哥, or WeSing is Tencent's karaoke app and with 160 million monthly active users it ranks No.1 among all karaoke apps in China.
WeSing is the world's first social karaoke application with features like group song practice mode and friends contest sessions.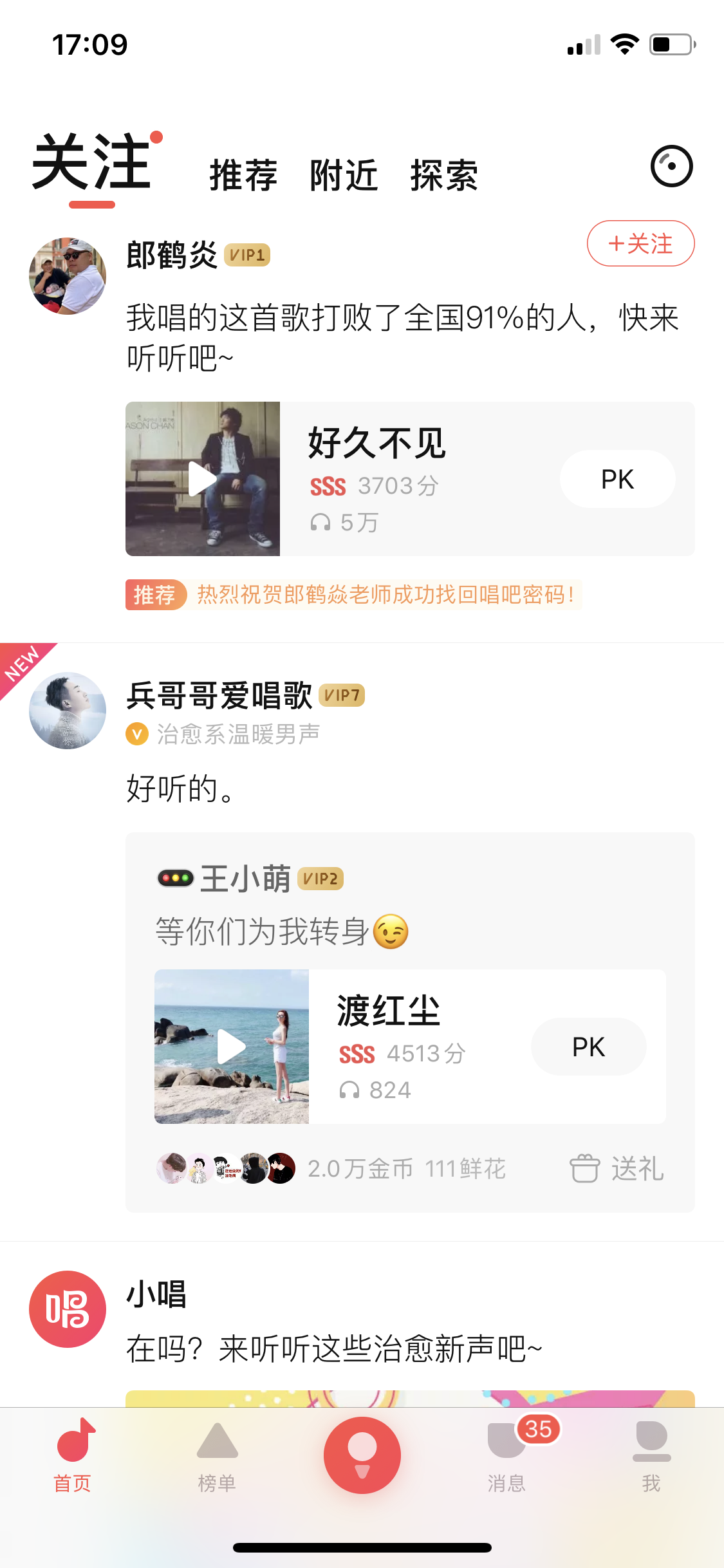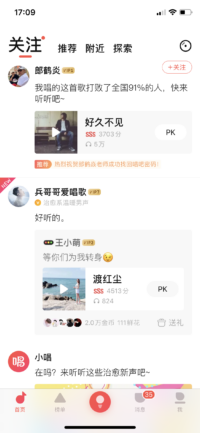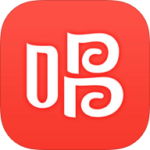 Changba
Changba is another one of China's popular apps.
Users can upload a video of themselves singing along to songs and share it among their friends.
The app could be a great promotional tool in collaboration with key performers.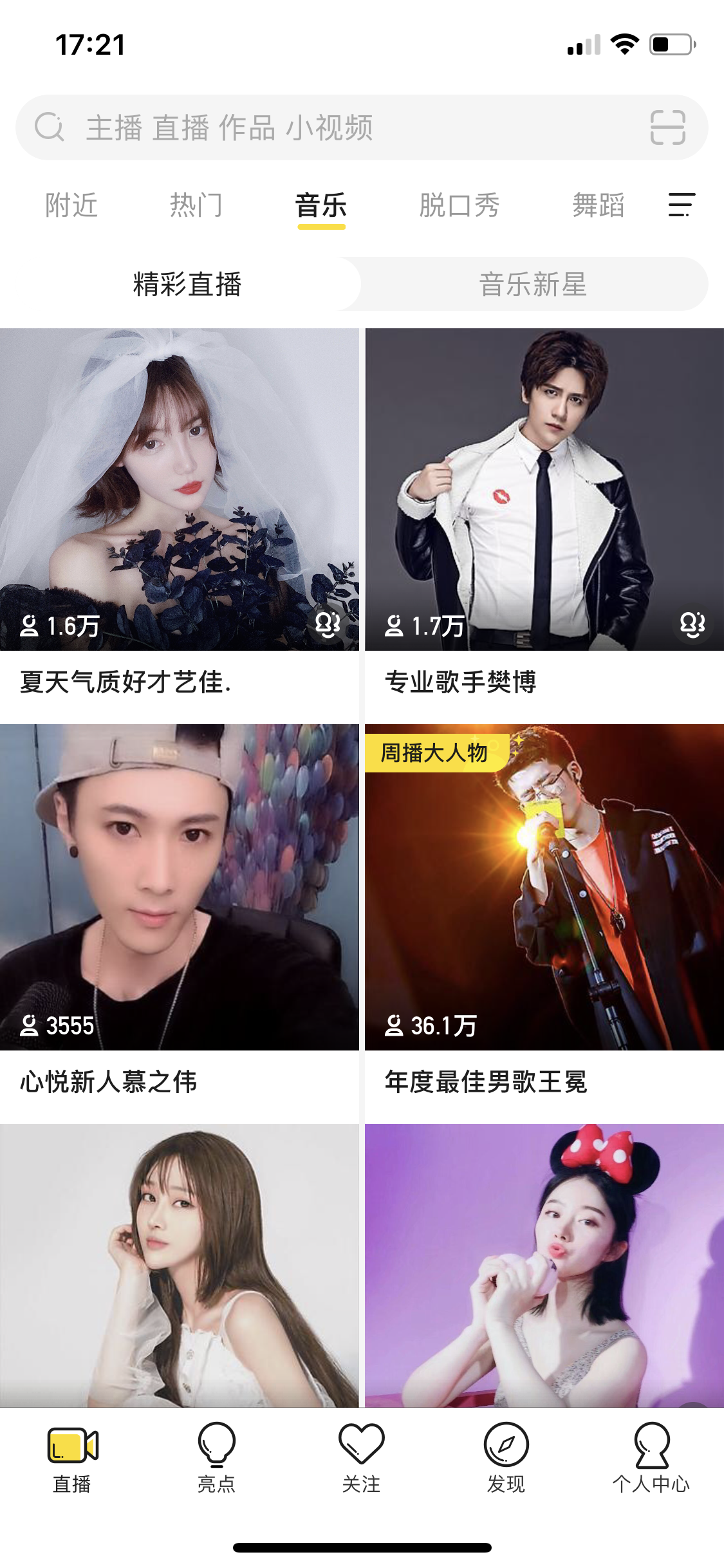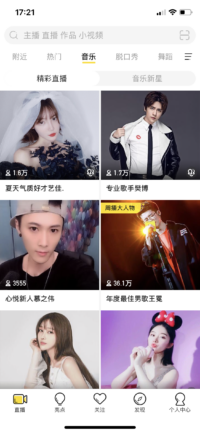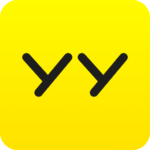 YY
YY is another major Chinese video-based social network with over 400 million monthly active users globally.
With its initial target users being gamers, its content has now broadened to include concerts, fashion, sports, and more. In November 2012, YY was listed on the Nasdaq.
Overview of China's


Social Media
Getting music online in China is a relatively straight forward process today. Reaching out to the Chinese followers and getting artists to interact with them however may be more challenging.
With restricted access to virtually all Western social media, including Facebook and Instagram, Twitter and YouTube; and Google and major news outlets, artists who want to focus on China effectively lack the very thing they have worked hard to build – their online audience.
Well, that logically pose quite a few questions. "Is it worth investing in China?" is the key one. With streaming rates from Chinese digital stores significantly lower than the likes of Spotify many are asking themselves, "Are the large numbers of potential listeners really making up the gap?". As the market in China continues to mature and evolve the answer is increasingly – "yes".
Norwegian electronic artist Alan Walker's success story is a good example. Being one of the very few success stories however, it is also a very good example of how difficult it is.
China has its own social media platforms that in almost all cases don't have an alternative exact match elsewhere. Understanding how these digital services work, and what their value proposition is, will also help you understand who uses them and why they use them, which means you will understand your audience in China.
China is a mobile-first country, and never really developed an appetite for websites. People would jump on their preferred apps and search for the artist there. By way of example, celebrities such as Luhan or Jackson Wang, A-list artists in China – do not have websites; instead they have their official Weibo accounts.
China is not a cheap place to break an act into – reaching a billion people (who do not speak English) costs time and resources; a long-term strategy is a must, as well as detailed understanding of the socio-cultural context of the Chinese audience.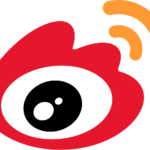 Weibo
Weibo is a micro-blogging website and mobile app.
The closest western comparison is probably Twitter – but while it's short-text and direct messages and content flow bears resemblance with Twitter, photo sharing is similar to Instagram, and news, articles, verified brands and media accounts is a bit like Facebook. In other words it mixes content with social features.
Launched in 2009, it is one of the biggest, as well as the earliest social media platforms in China, with over 400 million monthly active users.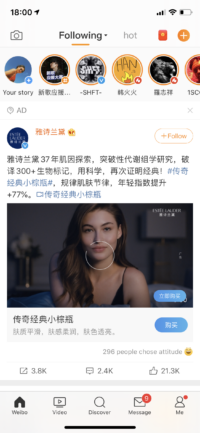 Weibo works for all levels of artists, though artists who already have an established audience in China would find it easier to develop their account and grow their Weibo fanbase. And people tend to judge an account based on the perceived popularity of that account – It is not unheard of people not following an account on Weibo just because they have a low number of followers.
Like many other social media services, Weibo accounts can be verified. Weibo is very strict with the documents required for verification. The artist is required to prove that they are a musician (eg music education, accolades, etc). The process is not around the person and the fact that the artist has their music online is not sufficient for Weibo to verify the account.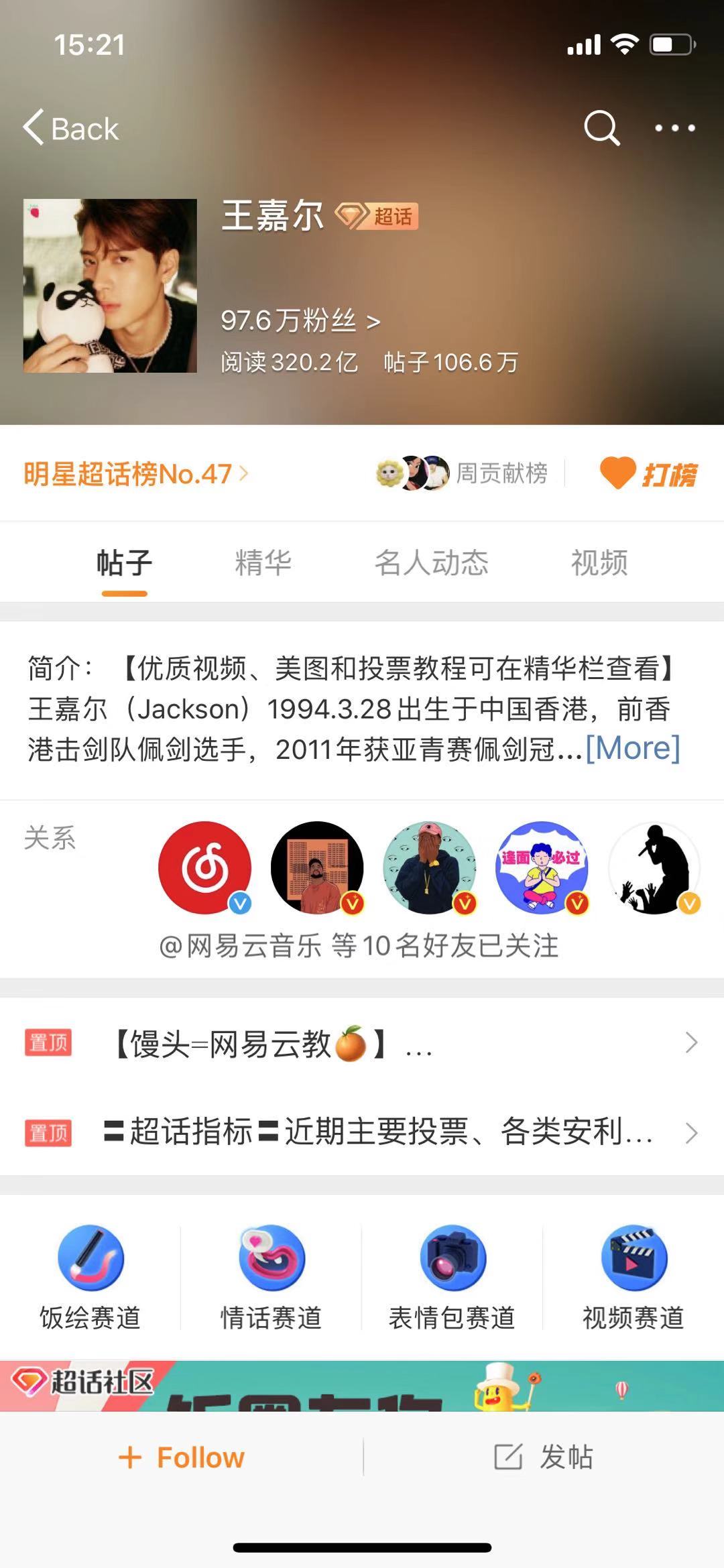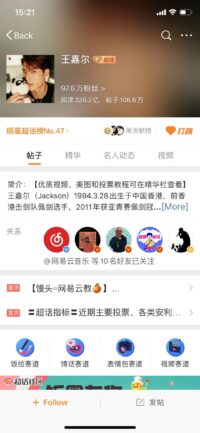 Hashtags and mentions on Weibo are utilized in a similar fashion as on other platforms, though different from Twitter, hashtags on Weibo are organized in a page of their own, displaying summary information about how many people viewed the hashtag, or in how many comments the hashtag appears.
Super Hashtags take things one step further as they can be followed and checked in at. Any user can create a Super Hashtag and by extension its page, with dedicated space to outline the main subject and adding up to three admins and ten moderators (or sub-admins).
Super Hashtags could be just about anything, though often they are created for Chinese celebrities, TV dramas, or video games.
It is a very organic approach towards setting up a community around artists as well, and creating a sense of belonging among fans as Weibo allows for Super Hashtag followers to be ranked by contribution or check-ins, comments, etc, making it home for many fan clubs across China.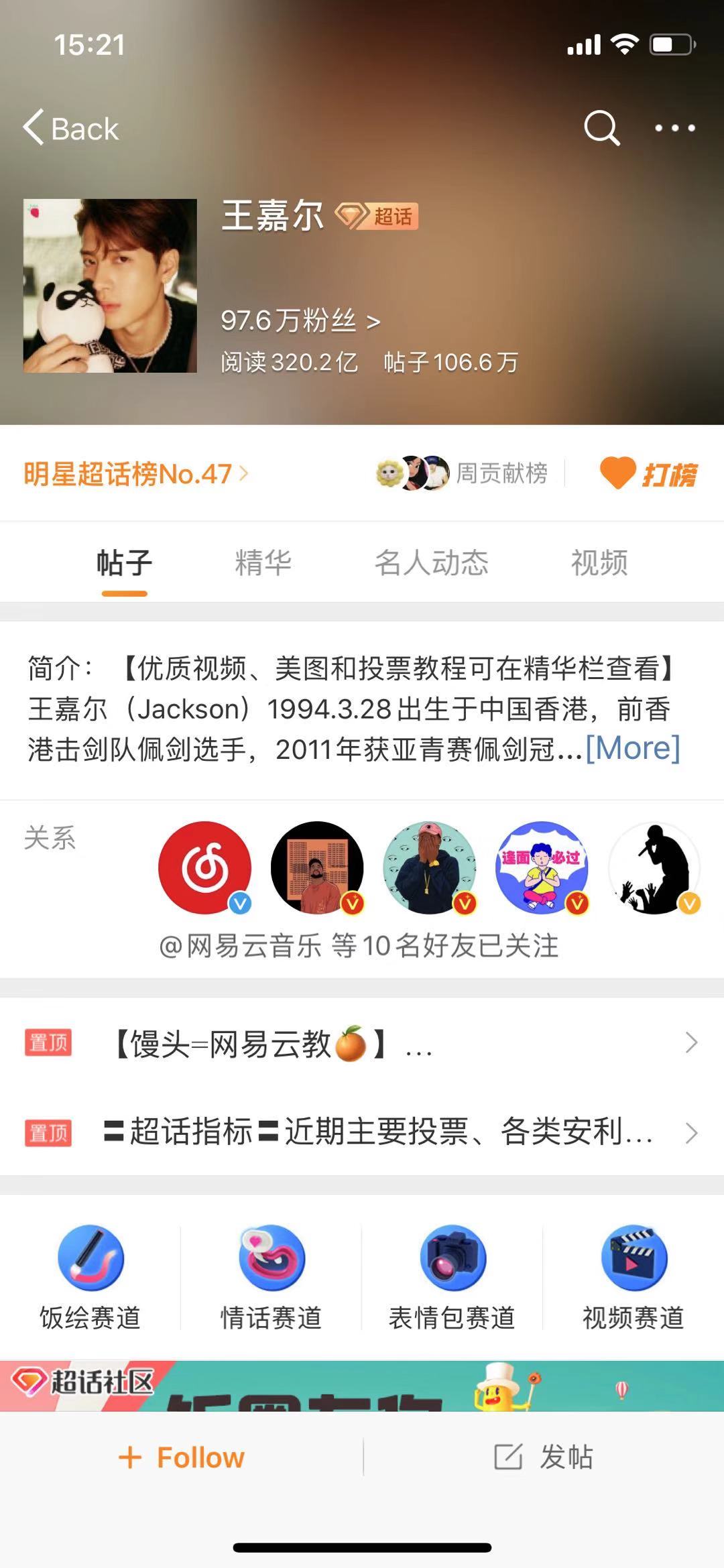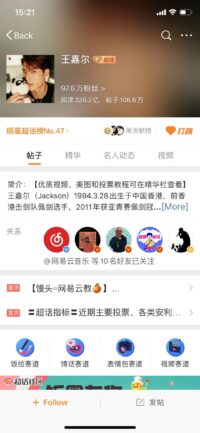 Another prominent feature is boosted posts, which works in a fashion similar to Facebook allowing to push content to both followers and non-followers, with the price varying depending on the total number of people being targeted.
Non-followers could be targeted as potential followers based on demographics, interests, business circles and/or key-words, or as followers of a specific account (including through search for said specific account).
Weibo is useful for influencer campaigns, advertising, competitions, cross-promotion and boosting organic content.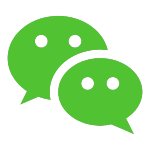 WeChat
WeChat is a multi-purpose app which includes messaging and calls, social media and payments launched by Tencent in 2013. It has more than 1 billion daily active users. It is safe to say that weCHat is central to most Chinese people's daily lives.
Before we say anything else about what WeChat is, we should say what WeChat is not a place where music artists dwell.
That being said, many promoters and artists use WeChat as a community management tool, and interact with followers there – whether to announce upcoming tour dates, or releases. In theory it makes for a great D2F promo tool, though it does not really work in practice for established artists due to the 500 users per group limit.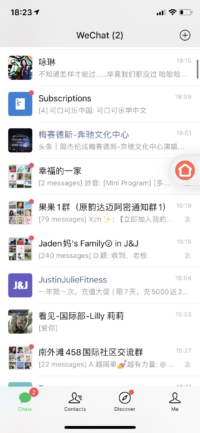 Due to the way comments are moderated under WeChat articles, it makes WeChat less interactive as compared with Weibo.
Having a limited number of articles per day (or per month depending on the account type), also does not help "bridge the space" between artists and their fans.
For context, Weibo's limited number of characters forces everyone to be creative when writing and as a result Weibo posts cannot be as eloquent as a longer-format article can be. This makes Weibo feel informal and allows artists to be themselves there and it just looks right. WeChat, on the other hand, is more useful for official label and brand accounts, where they can maintain a more formal relationship with their audience – think of WeChat official account as the brand's website.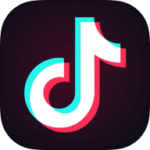 Douyin
Douyin is the Chinese version of TikTok, the popular mobile app. It has the same owner as Tik Tok – the Chinese company Bytedance.
It is available only in Mainland China and operates only with a Chinese sim-card. By the end of 2018 Douyin had claimed 350 million monthly active users and 150 million daily active users.
Functionality-wise, it is virtually identical with TikTok, however the two apps are disconnected, meaning the user base and content are different. No accounts, followers, or trending music on one is reflected automatically on the other. Douyin requires a registration separately from TikTok.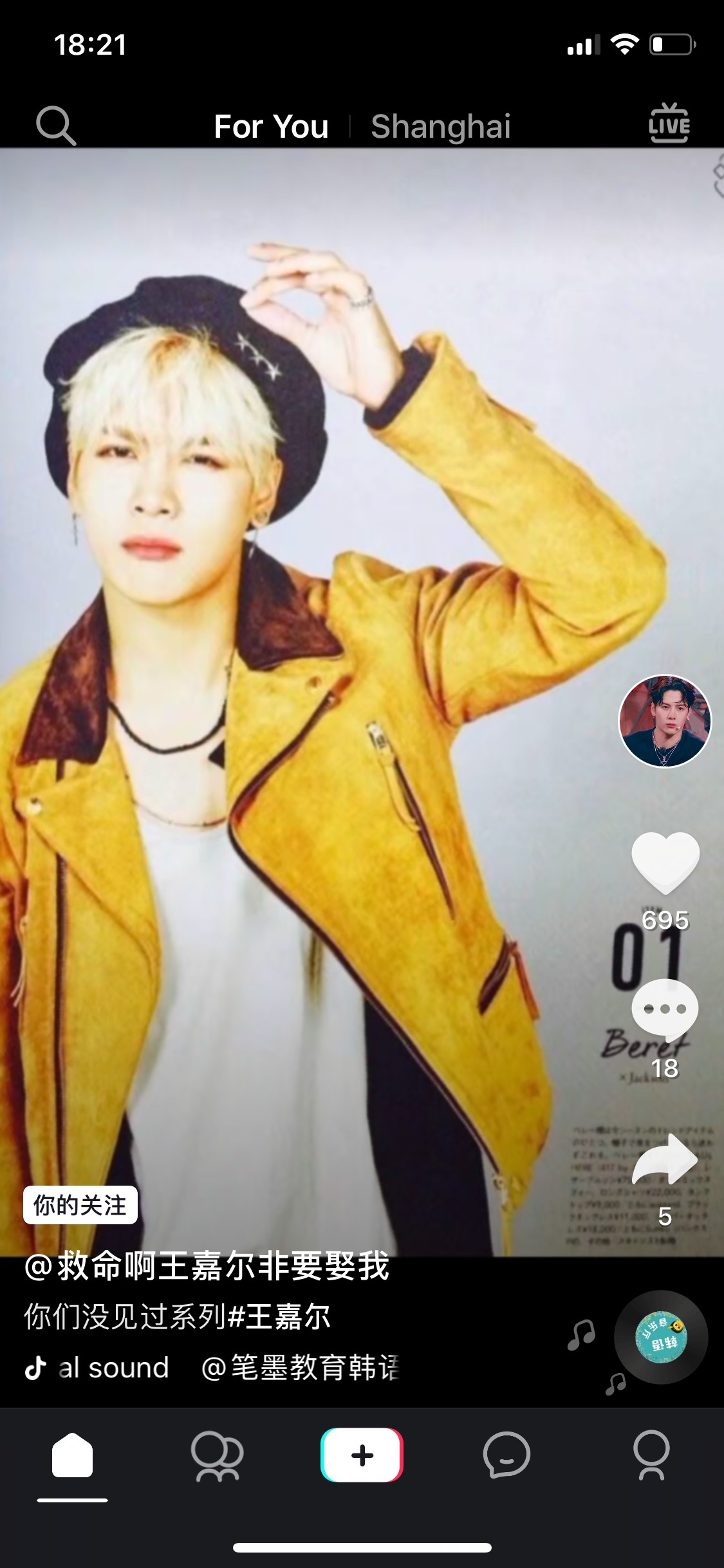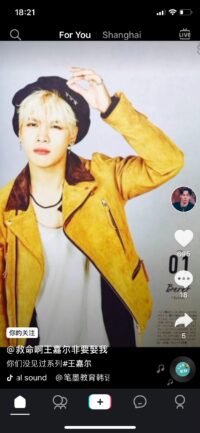 Popular content topics are family, food and selfies with funny effects, funny song covers, and Douyin challenges.
Although the main content type on Douyin is short video, users can also upload audio only, which can be used also by other users as background to their own videos. Tracks can be accompanied by artwork, which helps with the artist branding and also makes it easier for viewers to visually identify the song on the music platforms if it happens to be one with multiple versions or covers.
Trending music on Douyin is predominantly Chinese, though certain international music genres also tend to perform quite well – pop and EDM, indie-pop, indie-rock and pop-rock, as well as latin or dance music, which makes for a good trending "Meipai Shake" video.
As mentioned before, due to the ultra-high mobile phone penetration in China, content goes viral much faster than elsewhere and Douyin plays on people's desire to share interesting content with their friends as the three most prominent interaction buttons on the screen are "like", "comment" and "share".
Under each track's page, viewers can see all videos using the music as background, ordered by number of likes.
Due to the rather natural "discovery" mode that the Douyin feed is designed around, artists can collaborate with virtually any KOL on the platform as long as it works for both. The ways in which KOLs could promote music are also limited by imagination – using it as background music, do a release review or a cover, or even feature together in the KOL video.
To verify a personal account it is required to have at least one video uploaded, 10,000 followers and a mobile phone number associated with the account.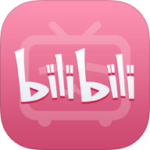 bilibili
bilibili is a less well known (in the west) video platform available as a native mobile app as well as a website. One of the great features of bilibili is the real-time in-video comments system, also known as bullet comments.
With over 100 million MAU, the platform is one of the leading video platforms, which combined with the live in-video comments makes for a great social interaction over a new music video release or interview, or any other video content.
bilibili started as an anime website though quickly pivoted as the popular choice for video-centered social interaction among teenagers and video bloggers.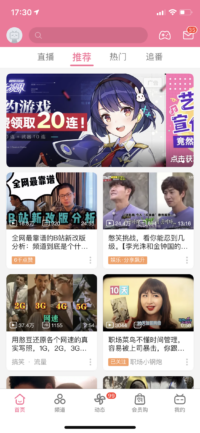 Vloggers on bilibili like to use background music for their post and if they respect the artist they will credit the artist and song they use.
Pop, indie-pop, indie rock, pop-rock, electronic, and the "happy and positive" music videos tend to get quite a good reception. Many artists also use it as a video diary.
Although bilibili does not pay royalties (as Youtube would), posting original video content and integrating it within the overall marketing and promotion strategy is recommended. It must be noted though, that bilibili is not the main music discovery source on the Chinese digital landscape.
Only email is required for the registration of an account with bilibili so it's possible to experiment with this without needing a Chinese mobile account